I'm a certified children's yoga teacher with Childlight Yoga and have additional training in trauma-sensitive yoga for children. I currently teach yoga and mindfulness in various schools in the community, and travel to preschools and libraries to offer classes for children and families. I can also host a yoga and art birthday party for your child.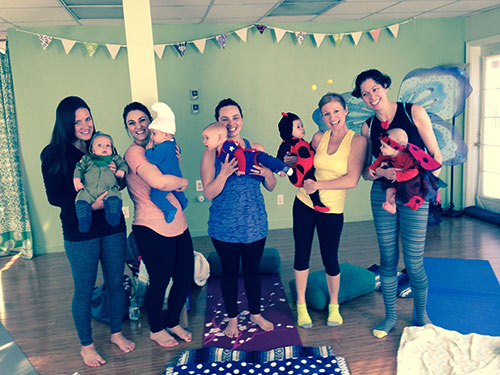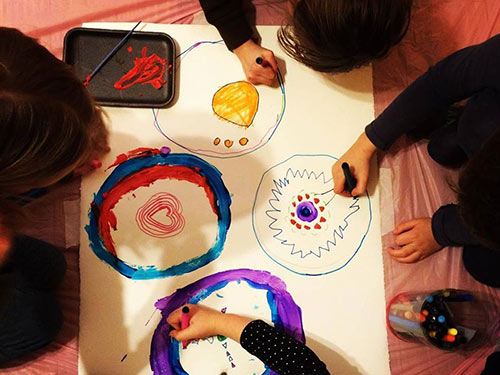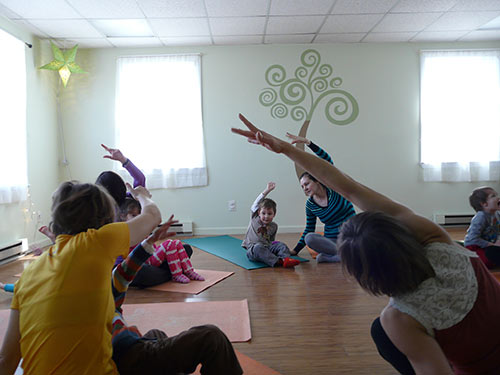 Class Descriptions
Little Yogi Family (ages 2-5)
For Little Yogis with your families. This class combines nature based yoga play, story play yoga, musical yoga and games that are suited for little yogis and your families. Lots of fun for everyone!
Family Yoga
For older kids with your families. This class combines playful yoga, a variety of individual and group poses, and games.
Preschool Yoga (ages 3-6)
This is a fun and playful class for preschoolers introducing yoga poses, breath and relaxation through play, games, team work, imaginary, art and music. I offer this class to private groups and in the community,
Super Kids Yoga (boys and girls age 5-8)
In this class students will learn basic yoga poses in a creative and playful way through games, use of various props, postures and music. Classes focus on building self-confidence, strength and concentration. Children are encouraged to express themselves while learning the basic yoga principles of respect to self and others as well as kindness, love and compassion.
Yoga & Art Club (boys and girls ages 6-8)
This class will introduce students to a diverse mix of yoga activities and art projects including a variety of yoga asanas, partner poses, nature, yoga related crafts, storytelling and games. Students will also have the opportunity to work individually and in groups and engage in mindfulness activities, relationship building skills, breathwork and meditation techniques in a non-competitive and nurturing environment.
Warrior Girls Yoga & Art (ages 9-12)
In this class we will come together into an equal, positive and non-judgmental zone and share your thoughts, emotions, personalities, similarities and differences, and celebrate them. This class will focus on exploring and expanding friendship, self-esteem and discovering the warrior within. We will experiment with a variety of poses, from simple to challenging, and work together in partner and group poses. Each class consists of a yoga section as well as a complementary activity such as group game, poetry and art.
Teen Yoga
This class is specifically designed for teens, providing an opportunity to work on strength and flexibility, while relieving the stress and demands of daily life. My classes allow you to focus on yourself and take a break from your busy life. Each class offers active asanas (poses), balance work, breath work (pranayama) and relaxation.
I offer birthday parties that are fun, enriching, unique and memorable for all children. I offer parties at Rosemont Wellness Center during the weekend hours (based on availability) and also in your or outdoor parties (popular in the summer).  Parties are filled with love, yoga & mindfulness activities, take away items and lots of smiles. You can also pick up a theme for your party or email us for a recommendation.
The cost of the birthday party on site is:
Option 1: for 6 children: $100/ 2 hour party including yoga, art project and cake time
Option 2: for 10 children: $125/ 2 hour party including yoga, art project and cake time
Each additional child is $10 and siblings are $5. Birthday girl/boys if free o charge. The maximum number of children is 12.
The cost of birthday party off site is:
Option 1 for 10 children: $75/ 1 hour yoga class.
Option 2 for 10 children: $110/2 hours party including yoga class, art project and cake time
*plus $3 /child for art supply.
I also provide a sliding scale for families with a genuine need. Please inquire more with us.
To hold your party space I ask you to provide a deposit of 50% value of the party. We also provide a contract at that time.
To cancel a party I ask kindly for 48 h notice. Deposit will be returned in full at that time. For cancellations less than 48 h I reserve the right to withhold the deposit unless there are unforeseen circumstances presented.
I am here to make your child's birthday party special and unique with lots of memories to bring home.
Please take a moment to fill out the form and I will be in touch.